Support organisations
Carers' UK offer unpaid carers living in County Durham free access to a wide range of online resources to help make caring easier.
The Digital Resource for Carers provides lots of free resources including free elearning, publications and access to a care coordination app where you can manage appointments and save important information about the person you care for.
To access the resources visit https://www.carersdigital.org/login/ and create an account using your free access code: DGTL2485
Durham County Carers Support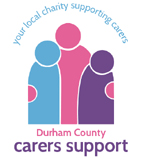 Durham County Carers Support is an independent, charitable organisation providing information, advice, and support to carers. Durham County Carers Support offers a wide range of local, confidential support services to adult and parent carers.
Durham County Carers Support: Claire's Story – video on YouTube with subtitles
Contacts
Family Action – The Bridge Young Carer's Service
If you are a young carer, there are services that can provide you with support and information. They aim to reduce your caring role by working with services to help your family to find other solutions and reduce the impact of your caring role. The video below highlights support available to young carers.
Transcript – The Bridge – Building Stronger Families.pdf
Contacts
Humankind – Horizon Young Adult Carers Service
Horizon is funded by The National Lottery Community Fund to support young adult carers aged 14 to 25 years old across County Durham.
Young adult carers are young people aged 16 to 25 who care, unpaid, for a family member or friend with an illness or disability, mental health condition or an addiction. Horizon Young Adult Carers service has broadened the scope of this definition to include ages 14 to 16, as young people we work with have told us they need support to make decisions earlier.
The impact of being a young adult carer can be totally different for each individual, however, it is important to understand what is going on for each young person and decide together what support is needed.
Horizon focus on helping young adult carers with their transition into adulthood, reducing the caring role and its impact.
Contacts
0132 573 1160
Humankind Inspiration House Unit 22 Bowburn North Industrial Estate, Durham, DH6 5PF
Mobilise
Durham County Council has partnered with a new digital service Mobilise to extend online support for carers. To access a whole range of free services and discover an online network of people to support you, please go to – https://support.mobiliseonline.co.uk/durham. Support is available 7 days per week 9am – 10pm.